6 februari 2017
The Ultimate Embryo
Would you like to read an enthusiastic report about one of the four days course by Jaap?
Take for example the course he gave at the institute of Tom Myers Anatomy Trains in Maine USA, last yearJuly 2016.
Her below a short impression.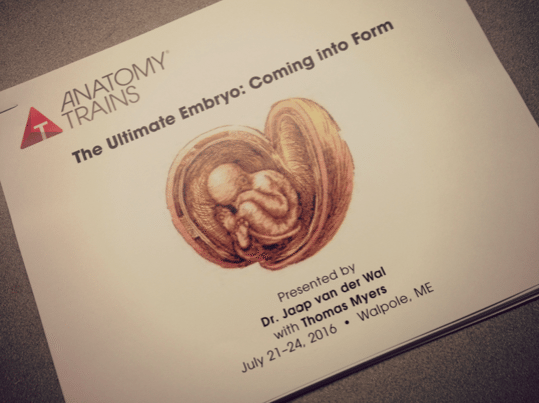 Jaap truly dances as he describes the folding and unfolding gestures during the process of human embryonic function. He pulls from several inspirations, including the work of Rudolf Steiner, Rumi, Andrew Still, and art from Michelangelo, Da Vinci, Greek art and more. Citing the theories of Blechschmidt, he comments on the fact that movement is pre-exercised in the body and that motion is the primary force, while form is secondary. As he stated, "you are a process and you are constantly shaping your body."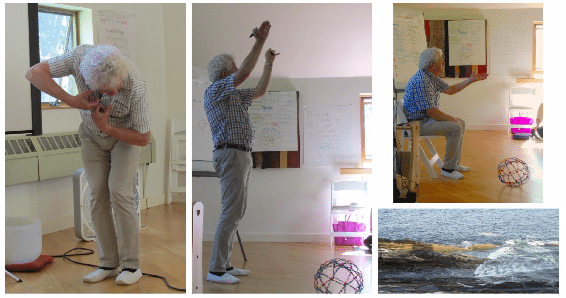 16 - 23 March 2016 A great course in Barcelona.
From 16 to 19 March I gave a course for the International Institute of Advanced Studies in Osteopathy (IASO) in Sant Just Desvern, Barcelona. The majority of the approximately 15 participants was osteopath (in training). It was a very pleasant course to give. Fine and very interested and motivated people. Here are a few photos

The class room with the participants: make a gesture!
With Lidia Estany for an interview in the MIdline Institiute Barcelona and Jaap on the balcony the Gaudi Palace Battlo
Below: this is how you eat 'Calcotedes'