1 december 2017
Drei Kursen in den VS - Sommer 2018 . The Ultimate Embryo
ASHLAND (or) 28 JUNE till 1 July 2018
WALPOLE (MAINE) 18 till 21 JULY 2018
KESWICK (VA) 25 till 29 JULY 2018.
In the summer of 2018 Jaap van der Wal will present his well-known class The Embryo in Us - Embryo in Motion THREE times in the USA. From the West to the East and to the South-East he will voice the Human Embryo as the mystery that might help us to understand who we are, where we come from and what we are meant for. What did you do when you were an embryo? Understanding ourselves as embryo.
Go to
www.embryo.nl
(Dutch, English and German), click on Course Calendar and look for Ashland, Walpole and Keswick to see what you are going to miss if you let Jaap leave the USA without him having met you. Everybody is welcome, everybody has to know about the human embryo! Osteopaths, craniosacral people, polarity people, trauma therapists, body and manual therapist, midwives, teachers, and, and. Don't let this pass by!
THE ULTIMATE EMBRYO, Maine 2016
Möchtest du einen begeisterten Bericht lesen von einem der viertägigen Kursen von Jaap?
Nimm zum Beispiel den Kurs welchen er gegeben hat beim Institut vonTom Myers Anatomy Trains in Maine USA, im letzten Jahr Juli 2016.
Hier unten ein kurzer Eindruck.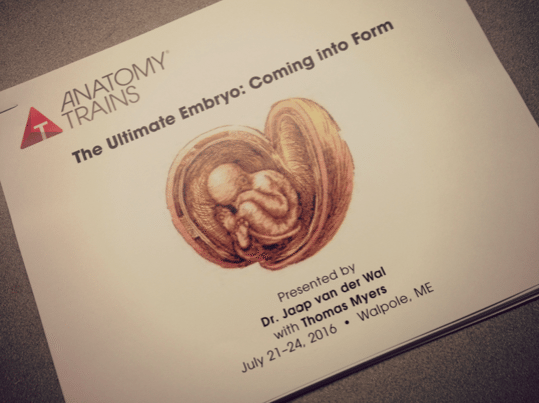 Jaap truly dances as he describes the folding and unfolding gestures during the process of human embryonic function. He pulls from several inspirations, including the work of Rudolf Steiner, Rumi, Andrew Still, and art from Michelangelo, Da Vinci, Greek art and more. Citing the theories of Blechschmidt, he comments on the fact that movement is pre-exercised in the body and that motion is the primary force, while form is secondary. As he stated, "you are a process and you are constantly shaping your body."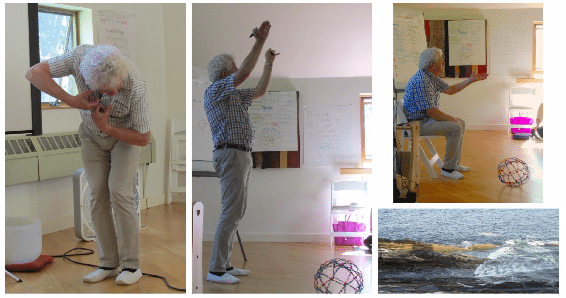 In März 2016 gab es ein großartiger Kurs in Barcelona. Von 16. bis 19. März gab ich einen Kurs für das Internationale Institut für fortgeschrittene Studien in Osteopathie (IASO) in Sant Just Desvern, Barcelona. Die Mehrheit der ca. 15 Teilnehmern/Innen war Osteopathe (in der Ausbildung). Es war eine sehr angenehme Kurs um zu geben. Feine und sehr interessierte und motivierte Leute. Hier gibt es ein paar Fotos

Der Klassenraum und mit den Partizipanten: mache doch mal eine Gebärde!
Mit Lidia Estany für ein Interview im Midline Institut und Jaap auf dem Balkon des Gaudi Palastes Battlo.